Introduction
Apple certainly took its sweet time with this one. After years of rumors Apple Watch finally showed its face on September 9 last year and started to reveal its secrets. And it wasn't until the end of April that actual sales begun and with long waiting times at that. Now we set off to find if it was all worth it.
On paper the Apple Watch polarized opinions. This has always been the way with new Apple products – many love them, others hate them. More often than not however there was enough in the first camp to turn them into raging success.
We've been hearing about an Apple watch for so long that it's feels rather strange that we are only now seeing the first-gen device. When the first rumors surfaced the smart wearable niche was a barren one – now it's brimming with life with Android Wear coming in a dozen flavors and Samsung offering its own Tizen alternative.
Had it came earlier, the Watch would have certainly had easier competition and more importantly it would have been able to set the rules of the game, rather than being forced to play by those set by others. Yet Apple is known for not rushing products and this was no exception – the clear message being that the Watch is so polished that it has nothing to fear.
Criticism for the Apple Watch ranges from use of a rectangular screen through the extensive relying on physical controls to the smallish size if both available available 38mm and the 42mm varieties.
The jury is still out on what the proper smartwatch display form factor should be so experiments in this area are more than welcome. The Apple Watch bets on the signature iPhone 6 design and relies on extensive exterior customization options to win users on its side. You can have it with in aluminum with Ion-X glass or in stainless steel with sapphire screen protection, both available in Silver and Gray paintjobs, but you may also like the limited Watch Edition made out of gold and ceramic alloy.
There are six different bands, most of them available in a variety of colors, too. Throw in the plethora of available watch faces you can make and you can have an Apple Watch that's really yours, one that really stands out.
Key features
38mm: 1.34″ Flexible AMOLED capacitive display, 272 x 340 pixels, 326ppi
42mm: 1.54″ Flexible AMOLED capacitive display, 312 x 390 pixels, 326ppi
Apple S1 chip, APL0778 CPU, PowerVR SGX543 GPU, 512MB RAM
8GB internal storage (6.3 GB user available)
205mAh Li-Ion battery, rated at 18-24 hours of usage
38 mm: 38.6 x 33.3 x 10.5/12.3 mm, 25g Sport Watch weight, 40g Steel Watch weight
42 mm: 42 x 35.9 x 10.5/12.3 mm, 30g Sport Watch weight, 50g Steel Watch weight
Bands: Silicon, Classic Buckle, Modern buckle, Milanese Loop, Leather Loop, Stainless Steel Link
Apple Watch Sport: Aluminum casing, Ion-X protective glass,
Apple Watch: Stainless steel casing, Sapphire protective glass
IP67 certified for water and dust
Watch OS 1.0.1 with Siri integration
NFC, Bluetooth 4.0 LE, Wi-Fi 802.11b/g/n; Apple Pay support
Force Touch Sensor, accelerometer, gyroscope, heart rate sensor, barometer
Microphone and speaker
Digital crown control, vibration motor, wireless charging
Main disadvantages
Rather pricey and very limited availability
18h rated battery life suggests daily charging
Works only with an iPhone 5 or later
Screen isn't always on, relies on wrist turn gesture
No sleep tracking (though your watch will most probably be on its charger while you sleep)
It will only sync music with your phone when it's on a charger
The first major concern about the Apple Watch is its battery life. With Apple itself only promising 18 hours without the screen being always on, many were wondering if it will be able to last you through a day of heavier usage. Best case scenario it will be another gadget you need to charge everyday. Given the rather thick frame and the price tag we certainly expected better, but perhaps Apple undersold the Watch endurance – we'll certainly be paying close attention to how it fares in real life.
The screen that remains off for the majority of time is another thing we'll be testing thoroughly – how much of a nuisance it is and how accurate the wrist turn gesture is recognized.
Naturally we'll also have to see if the new operating system developed from scratch is as intuitive and cool as it's hyped up to be. And the Watch App store, while still in its infancy, will need to convince us that it's worthy of a device that can run well into four-digit pricing (that not even considering the Watch edition).
That's a lot of groun
d to be covered so let's waste no more time – we begin with the unboxing and hardware examination after the break.
Unboxing the Apple Watch Sport
Apple Watch Sport comes packed within a retail box twice as long and somewhat heavier than a regular iPhone 6 package. Opening the box reveals another plastic box, which contains the Apple Watch Sport itself, either the 38mm model or the 42mm one.




Unboxing the Apple Watch Sport
Below the plastic box you'll find an additional larger bottom piece of the band (size M/L), a tiny 5V/1A wall plug and 2m-long wirelesses magnetic charger.
Design and build quality
The Apple Watch was introduced alongside the iPhone 6 and iPhone 6 Plus smartphones and it's no surprise that its design takes after the smartphone duo – aluminum (or stainless steel) unibody with rounded edges and the 2.5D Ion-X (or sapphire on the more premium models) glass.





Apple Watch Sport 38mm next to an iPhone 6 Plus
A lot of people (us included), were hoping that Apple will choose a circular display for the Watch, but it seems the company wanted its first wearable to be recognizable and for that the signature iPhone shape was the logical choice. The more conventional (for electronics, not so much for watches) form certainly helped pack more chips inside, although the Watch still ended up being thicker than we'd have liked.




Apple Watch 38mm with Aluminum Silver case, Ion-X glass and Blue Sport Band
Whether you are opting for the Aluminum (Sport) or the Stainless Steel (Watch) models, you can choose between silver and space grey shells. The dark paintjob is available only with black sport bands for the Sport flavor and black stainless steel link bracelets for the Steel watch. The silver casing seems to go better with a more sportier looks, while the Gray one looks more stylish and official.





Apple Watch 42mm with Gray case and Black Sport Band next to the 38mm Watch with Blue Band
The difference between the 38mm and 42mm is easily noticeable – in fact it feels greater than the numbers suggests. The 38mm size seems only appropriate for very small wrists, a ladies edition if you will, while the 42mm won't be out of place on a larger man wrist. Still, if you are a fan of larger watches, you should keep in mind that a 42mm Apple Watch is smaller than a 42mm regular watch – the reason being that most watch makers measure diameter, whereas Apple lists the height of its rectangural smartwatch and the body width is actually shorter.





The 38mm (Blue band) and 42mm (Black band) Watch models on different sized wrists
Naturally, if you are after durability, the more expensive Watch should be your choice, as it is protected by the far tougher sapphire, while its case is made out of stainless steel. The aluminum Sport Watch and its Ion-X glass result in lighter body, but one that's far easier to scratch and dent with time.
We won't lie we are not keen of the sport silicon band, as it makes your wrist sweaty and while it may be comfy for sport, it sure isn't the best choice for every day wear. Also, the pink/blue/green bands make the Apple Watch look more like a toy rather than a serious and expensive gadget, and we'd definitely wouldn't wear the Watch with a sport band at any official gatherings.




The sport bands of the 38mm and 42mm models
Apple Watch is designed carefully in Apple's traditions and you can tell it right away. It isn't following any trends or care much about public feedback, but is instantly recognizable and packs in some good ideas that few have thought of before.
Wearing the Watch is a pleasure – it is very light and small, and it won't get much in your way. The hefty feeling associated with most premium watches in the same price range is certainly not there, but opting for the heavier metal bands will certainly solve that. In its base Sport version, the Apple Watch is mostly suited to exactly that – sporting activities.
The bands aside, the build quality of the body is nothing short of excellent as is its logic of operations. You can wear it on either left or right wrists – just flip it upside down and the keys will be in the right place.





The Apple Watch • the 38mm Watch sized up to the 42mm model
Controls
The Apple Watch relies heavily on its touchscreen and its Force Feedback functionality, but there are other ways to help you navigate through its menus and settings.
First – there is the Favorites key, which always opens the menu with your favorite contacts for quick and easy interactions with them. A long press on that key opens the Power menu. We find it rather strange that the functionality of this key isn't customizable – given that you only have one, why not allow everyone choose what to do with it. Worse still, favorite contacts is one of its least useful applications unless you plan on doing a lot of talking over your Apple Watch James Bond style.



The Favorite/Power key and the Digital Crown
Right next to the Favorites button is the Digital Crown, which is a very precise scrolling tool and doubles as an OK or Exit key. The Crown is very easy to move and we found ourselves using it a lot more than as we anticipated at first, just because its great force feedback and precise movement.
On the other side of the Watch are the tiny loudspeaker grille and the microphone – you'll need those for interacting with Siri, or if you must, for making calls through your Watch.


The mic and the loudspeaker grille
The bottom of the Watch is where the massive hear-rate sensor is. This is also where the magnetic wireless charger attaches too.
There are two small knobs at the back of the Watch, which release the two parts of the band, so you can replace it with another one. Currently you can get five different bands from Apple in a variety of colors, but those are priced rather outrageously. Hopefully by the time you get bored with your default strap a number of cheaper third-party ones will be available to fix that.


Removing the bands completely is very easy
Display
Apple Watch utilizes a flexible AMOLED screen with 326ppi density. The 38mm model has a 1.34″ screen with 272 x 340 pixels, while the 42mm packs a 1.53″ unit with 312 x 390 pixel resolution. It's pretty much the first Apple device to come with AMOLED screen.
Using an AMOLED display pretty much guarantees excellent viewing angles and punchy colors as is the case with the Apple Watch. The contrast is superb and the blacks are as deep as they come.
Another benefit of the AMOLED tech is the great sunlight legibility – something very important for a watch. We can confirm the Apple Watch is indeed great under bright sunlight and you'll have no problem using it outside.
Connectivity
Apple Watch doesn't come with a SIM card slot as some competitors like the Samsung Gear S or the LG G Watch Urban LTE, which means it can't connect to a mobile network and can't operate as a standalone device. Sure, you can take it outside without your iPhone, and use it for listening music and tracking, but to get the full functionality you'll need to hook it to your primary device.
The Watch supports Bluetooth 4.0 LE for connection with your iPhone and wireless headset.
We noticed something really odd – if you are using a Bluetooth hands-free device or a hands-free car system, you'll have to change the automatic connection from your iPhone to your Watch. Otherwise the Watch won't prioritize those as primary talking devices and will make you switch manually each time. If you don't do this – each time you dial someone from within the Watch Phone app, you'll have to talk and listen through your Watch, which doesn't make sense at all.
While connecting your Bluetooth device to the Watch instead of the iPhone is a solution, the iPhone-Watch-handsfree double bridge creates a monstrous lag that will render your call awkward and annoying. This needs to be fixed and pretty quickly at that.
There is also support for Wi-Fi b/g/n and NFC, which is needed for the Apple Pay service.
Finally, the Watch supports wireless inductive charging and uses a magnetic cable similar to the MagSafe charger for the MacBook lineup.
Battery life
The 38mm Apple Watch is powered by a 205 mAh battery, while the 42mm battery capacity is still unknown. We did some exhaustive testing on the 38mm battery in order to give you a better idea on what to expect. As you may know the Watch battery life topic turned out quite hot as Apple is officially giving it 18h.
We started our day at 100% battery at 8:30 AM in the morning. After a 45 min outdoor workout, a 15s voice call, 5 Siri interactions, 5 Viber previews, 1 min of scrolling through Glances, and 70 time checks (up to 2s each) we ended up at 60% battery at 1 PM.
Throughout the afternoon we checked the time 40 times (each up to 2s), accumulated 5 min of using different apps (including Glances a.k.a. widgets) usage, used the heart-rate monitor 5 times manually, and the Watch rang 5 times for call notifications and dinged about 10 times for emails or Viber alerts. By 8:30 PM the Watch battery dropped down to 20%.
After work, at home, we check the time 15 times (each up to 2s), did 2 additional pulse measurements and used some apps for a total of 1 min. At 11PM the Watch got its battery drained down to 10% and entered in Power Reserve mode, which turns it into a simple time-telling device but lets it last for about half a day.
After digging in the Health app we found app the Apple Watch used the heart-rate monitor starting 8:30AM to 11PM 285 times, including our few forced checks.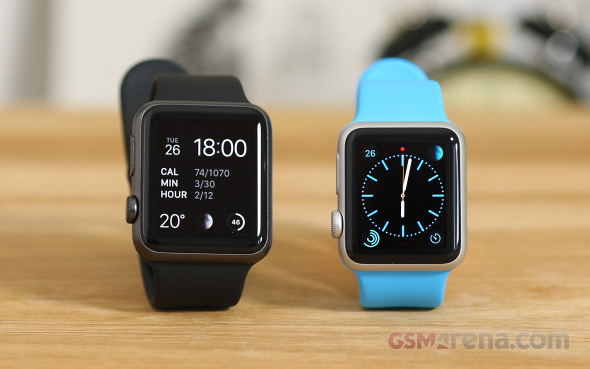 For the second test we chose a simpler watchface, which doesn't require much GPU power for animations (the X Large one) and managed to squeeze about 5-6 hours more. So we can confirm that choosing a GPU-efficient face will boost the Watch battery life.
Then we turned off the heart-rate measurements (the Watch does about 200-300 of those each day) from the Apple Watch app -> Privacy. This gave us around 6 extra hours of battery life.
So after a while we were able to achieve two full days of battery life hassle free by turning off the heart-rate monitor, opting for a simpler watchface and using the Power Reserve battery saving mode while asleep for the two nights.
Of course that last scenario is rather limiting so the fact remains that more often than not you'll have to charge your Watch every night. It's hardly ideal to have another device to charge every time you go to bed and it's notably worse than what some of its competitors offer – some can easily go for 3-4 days.
Then again, it's not as bad as some feared – the battery backup will always be more than enough to last you through a day so you won't have to do a second charging during the day. That might change if more apps worth using appear and you spend more time using them, but for now things are okay.
The 2m-long inductive charger is magnetic and clicks on the Watch very well, as the MagSafe plug does on the MacBooks. Recharging does take quite a lot of time – a depleted Watch takes about 3 hours to go back to full.
Our experience with the 42mm Apple Watch showed that its battery lasts slightly longer, but not enough to allow us to reach home on a second day so again we ended up charging it daily.
User interface
Apple Watch runs on the newly unveiled Watch OS, currently in version 1.0.1. That .1 at the end points to the first firmware update that Apple released in mid-May, which was said to improve the performance with some apps, while adding support for new languages and bringing better notifications.
Just like iOS, the Watch OS follows a What-You-See-Is-What-You-Get UI approach. There are no hidden menus to be invoked with the hardware keys though the "reinvented" longer press, which Apple calls Force Touch will open up some contextual app options which may or may not be obvious at first.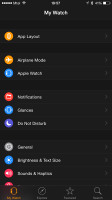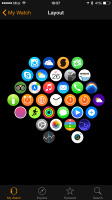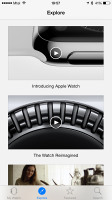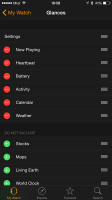 Apple Watch app on the iPhone 6 • Configuring Glances
The Watch OS has four major components – main menu, notification center, the Clock app and Glances. It relies on its touchscreen for navigation, the Digital Crown for precise positioning and scrolling, as well as Force Touch (a heavier press on the screen, like old times with the resistive displays). The latter is mostly used for accessing configuration and viewing settings of different apps.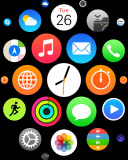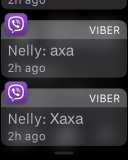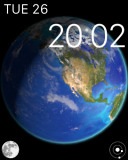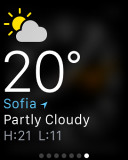 Main Menu • Notifications • Clock • Glance (Weather)
Upon pairing you will be asked to choose on which wrist you will be wearing the Watch. This way you can use the Apple Watch on your right hand as opposed to the default left hand. The UI will switch the orientation accordingly and the Digital Crown won't be awkward to use.
The pairing process takes a minute or two, which is rather long, but since it's a one-time thing we don't really mind. After that the Apple Watch is ready to use, but you'll have to enter some additional details if you want to use the fitness tracking and health-related apps and services.
Naturally, the Clock app is the most important app in the Watch. You get 9 different watchfaces at launch, but hopefully Apple will add more in the future. We also hope Apple will allow third-party watchfaces in the Watch Store, but for now we'll have to rely on updates to expand the catalogue.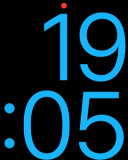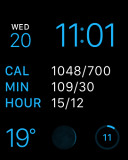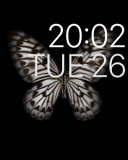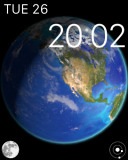 Watchfaces – X Large, Modular, Motion, Astronomy
Anyway, you've probably seen most of those watchfaces in the official ads – Utility, Modular, Simple, Motion, Astronomy, Color, Solar, Chronograph, Mickey, and Large. Most of those are configurable – you can opt for additional on-screen information such as calendar events, sunrise and sunset, moon phase. Adding and removing watchfaces is easy, but rather useless at this point, as there are no more watchfaces besides those.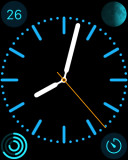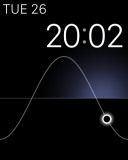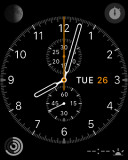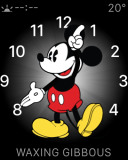 More watchfaces – Color, Solar, Chronograph, Mickey
The Main Menu has all the apps you have installed on the Watch, displayed with circular icons. You can scroll through them with fingers and zoom in with the Crown. You can rearrange the icons on the go, uninstalling happens the same way as on the iPhones. Many apps now offer extended support for the Watch and you can notice various icons on your Watch at first run – SkyView, Yahoo Weather, Instagram, TripAdvisor, etc.
A push on the Digital Crown means Back to Main Menu when you are within an app or a Glance, but it will focus on the Clock app if you are in the Main Menu, or it will just launch the Clock if the app is already in focus (centered).
If you click and hold the Crown, then you'll summon Siri. It does pretty much the same stuff as it can do on the iPhone, its UI has been just converted to support the Apple Watch. Experience with Siri at this point is dodgy at times, particularly when the phone is more than a meter away from the smartphone.
Occasionally the virtual assistant will refuse to come up on your Watch screen and other times it simply won't accept your commands. The lag with executing commands is also far more prominent than on the iPhone, but that was to be expected.
Glances is a system similar to the Android widgets. One Glance takes one screen and you can have as many Glances as you want. Key features are all covered – Calendar, Heart Rate, Connectivity toggles, Maps, Battery widget, Activity tracker and Stocks. All of your iPhone apps that support Watch Glances appear on your Apple Watch app and you can easily enable them.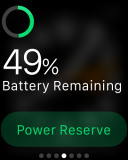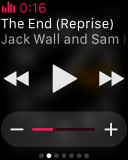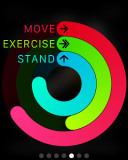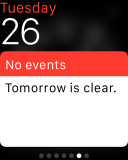 Glances – Battery, Music, Activity, Calendar
To access the Glance screen you just need an upward swipe on the watchface. If you swipe down instead, you'll bring down the Notification Center, which appears to be the same as on the iPhone, just properly resized and simplified.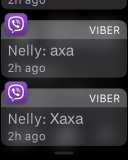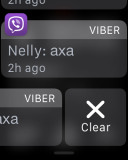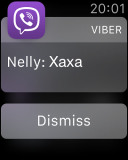 The Notification Center • Viewing a single notification alert
Many developers are adding Glance support to their apps, so the number of available Glances should rise quickly over the next few months.
There is no Watch Store on the Watch, you have to add the apps from the Store tab in the Apple Watch app. That's the way competing platforms work and the reason is quite clear – browsing apps on the tiny watch screen is a real pain.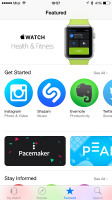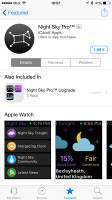 The Watch Store within the Apple Watch app on the iPhone
Pressing Favorites key launches a reel with your Favorite contacts and you can easily interact with them via the Crown. Call and Message – just a tap away. A press and hold on the key pops up the Power menu.
If your Favorite contact also uses an Apple Watch, a new key appears below the picture. If you tap on it you can send your heart beat (hold with two fingers on the screen), poke him/her (just tap on the screen), or send a small drawing (you can choose the color of your marker). Those are rather cool features, but wear off very quickly.
Unfortunately those arrived rather slowly on the other end and the Watch didn't give us notifications about the drawings.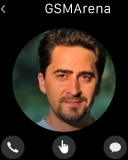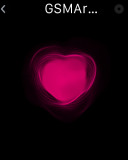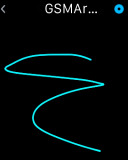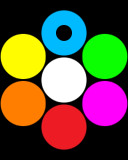 Sending heart beat and drawings is easy
Making or taking a call on the Watch is hassle-free. If you opt to take a call on your Watch, you need use both its speaker and microphone. The speaker quality is excellent, though it is quiet and you'll have a hard time hearing anything when in even moderately noisy environment.
The microphone is pretty decent and if there's no external noise the people on the opposite side won't notice you are talking from something else but your smartphone. The lack of a second mic for noise cancelling makes things far trickier when there's ambient noise, though.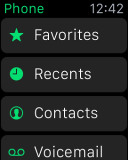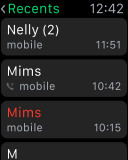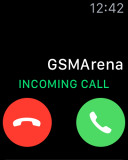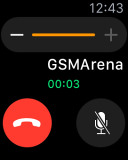 The Phone app – making or taking a call is easy
The problem with the Bluetooth hands-free priority remains though and Apple must fix it with the next firmware update. As things stand now, the Watch can hardly coexist with a Bluetooth headset or a car infotainment system – the double-bridged Bluetooth connection and the resulting lag just ruins the entire call.
The Watch supports Do not disturb and Airplane modes. You can turn on/off those separately or you can set them to mimic the other one's behavior – scheduling/turning on or off those on the Watch does the same on the iPhone and vice versa.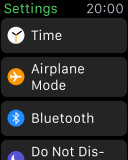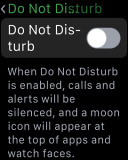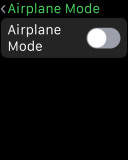 Settings • DND mode • Airplane mode
Finally, the Watch comes with a Power Reserve mode, which is basically a secondary operating system that turns your smartwatch into a regular one. It removes all eye-candy and all features, and does nothing but display the clock upon detection of your wrist movement. It does prolong the Apple Watch battery life tremendously though, but unless you only need to know the time we find it rather pointless.
Speaking of the wrist detection, the Watch is accurate 90% of the time and turns the screen on as expected. That's decent if not quite as perfect as we hoped – after all if you are going to bet on one gesture to activate the screen rather than give users a choice, you need to make it work flawlessly.
After all the Apple Watch uses an AMOLED screen, which should have allowed it to show the time all the time like some smartphones do. And if that meant sacrificing some battery life then perhaps it would have made sense to have it as an optional toggle so everyone would be free to chose what they prefer.aps it would have made sense to have it as an optional toggle so everyone would be free to chose what they prefer.
Fitness tracking and health
Apple Watch does not feature a built in GPS and instead relies on your iPhone for location tracking. It does come with a motion processor though and, of course, a heart rate sensor. This allows the Watch to collect raw data as steps count; time spent running, walking or standing still; and heart-rate measurements.
The raw data is displayed by the Activity app in your Watch and in your iPhone. It summarizes it easily for you in three colorful rings – Walking, Exercising (Running), Standing. The heart-rate measurements are used to calculate burned calories and precise monitoring during exercises.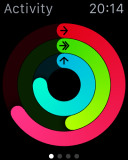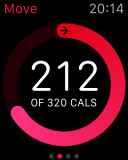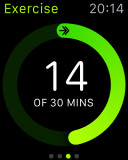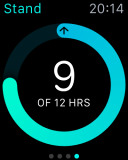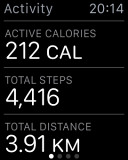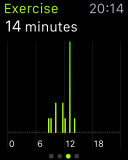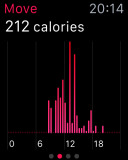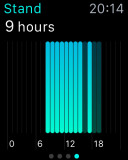 Activity app on the Apple Watch
Naturally you can set different goals for the Activity app, depending on your daily routine. Achievements are available, too.
The Activity app on your iPhone also doubles as Activity Calendar, where you can see full statistics of your daily routine per weekly, monthly or yearly basis.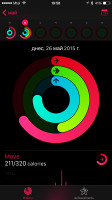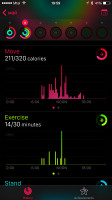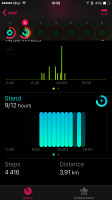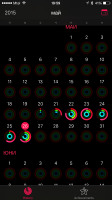 The Activity app on the iPhone
The Workout app is the real helper, when you are training. The supported workouts are running, walking, cycling, rowing or climbing (stairs) and you can set time, distance, calories, among other goals before you proceed with your training. Your iPhone will track your location and draw your route, while the Watch will inform you about your reached goals and what you need to do.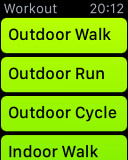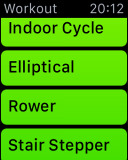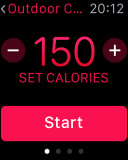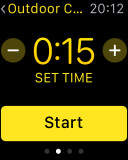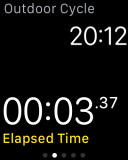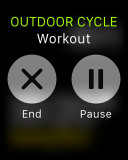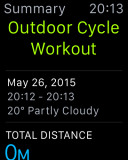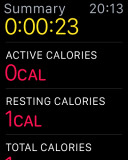 The Workout app on the Apple Watch
You can go without the iPhone outside and do a Workout, but you'll lose the ability to track your routes.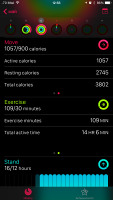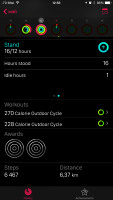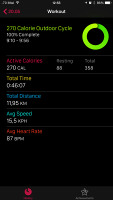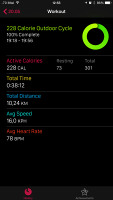 The Workout data displayed on the iPhone 6
All the data is also collected in your iPhone's Health app. There you can find all heart-rate measurements amd see detailed charts of your steps, climbed floors, walking and running distances. The Health app seems a bit clumsy to use at first, but once you find your way around its charts, you'll have no problem navigating through its interface.
Notable apps
Many systems and third-party apps have already been updated with Watch support, though not all of them add valuable features. Naturally, some of the most important updates come from Apple and its default iOS apps.
There is a Camera app on the Watch, which fires the Camera on your iPhone, displays the viewfinder in real time and allows you to snap shots without touching your phone. There is even a timer and you can opt for a delayed capture.
The Photos app on the Watch can sync a portion, or all of your iPhone images. You can choose the photos limit either by count (up to 500) or by megabytes (up to 75MB). The Watch scales your images down so they don't take as much space.
Navigation through Photos is easy – you zoom in/out with the Crown and touch the screen to open an image.
There is a Music app on the Watch, too. Normally it controls your iPhone Music app, but it can also act as a stand-alone music player, which music is synced from your iPhone. You can sync up to 250 songs or 2GB worth of music, configurable in Settings within your Apple Watch app on the iPhone.
Just choose a playlist or playlists from your phone and they will be uploaded on the Watch on the next battery recharging. That's right – you will need your charger to do any kind of syncing, making it impossible to upload new tracks on the go.
After you sync some music, you will be able to go outside without your iPhone and enjoy your favorite tracks using nothing but your Apple watch and a wireless headset.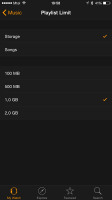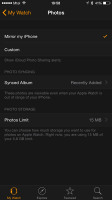 Settings limits for Music and Photos from the Apple Watch app on the iPhone
Quite expectedly compact versions of Calendar, Timer, World Clock, Apple Remote and Maps are available. Maps supports navigation and we hope other major navigation services (such as Google Maps or Sygic) add support for the Watch as well.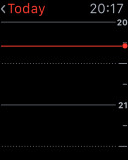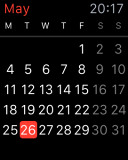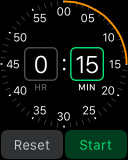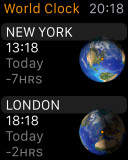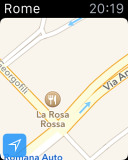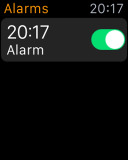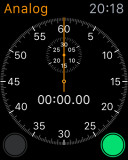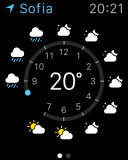 Calendar • Timer • World Clock • Maps • Alarms • Chronometer • Weather
Conclusion
Apple Watch gets many things right – it comes with a cool design available in two sizes, and you even get both S/M and M/L bands in the box. It integrates well with your iPhone and will certainly reduce the number of times you need to reach for your phone. Plus you get all those strap options, some of which are pretty innovative on their own.
The new Apple smartwatch platform is pretty easy to get used to and comes with more preinstalled apps than its rivals, enabling better out of the box functionality. Then you get the fitness tracking which is among the best you can get within a smartwatch.
Currently there are very few third-party apps, but the list is growing by the day. Hopefully Apple does right with the watchfaces and allow third-party ones in the Store soon. The Watch serves great for viewing and interacting with notifications, while Siri lets you command your phone without even touching it.
However, for all its virtues, the Apple Watch still feels like a first-gen product – its performance has its ups and downs with lags not a rare sight. The software is also rather dodgy at times and app and platform crashes are way more frequent than on any other Apple product.
Opinions are divided as to whether Apple's new OS is easier to operate than Android Wear, the fact remains that functionality is pretty evenly matched between the two. And the battery life is easily among the worst we've seen from a smart wearable even though the screen remains off most of the time.
Those all would have been much easier to swallow had it not been for the elephant in the room which is the pricing. The Apple Watch starts at $349 for the base 38mm Sport version, but the more "manly" size will run you $399. In Europe things are even uglier at €399/€449 – notably more expensive than any of its rivals, sometimes a few times more. If you add a leather or metal band that comes as a standard on many competitors, pricing will get really ridiculous.
Key test findings:
Build quality is top notch, regardless whether its Aluminum + Ion-X, Steel + Sapphire or Gold + Sapphire glass;
You'll probably need to buy a second more stylish and comfy band if you opted for the cheaper Sport model
Both the smaller and bigger AMOLED displays have great contrast and sunlight legibility
Bluetooth hands-free connections need a crucial fix
You will need to recharge every night, but you should be able to make it through a day almost always
There is a limited number of watchfaces and app support at launch
The Watch OS is great with excellent integration with the iPhone, though it needs further tweaking
Excellent for fitness tracking, though you will need your iPhone for precise GPS tracking
It all boils down to one question – is the Apple Watch a smart way to spend a huge chunk of your hard-earned cash? Well, that would be a tough call.
On one hand, even though they've come up with an excellent user interface, Apple didn't really add a new dimension to the smart wearable experience.
Then of course, if you won an Apple iPhone and you'd like to see what that smart wearable wave is all about, the Apple Watch is pretty much your only bet, as the only available alternative is the Pebble watch, which doesn't provide much in terms of integration with iOS.
It certainly grows on you with time but we found it hardly delivers a must-have functionality. Issuing commands to your wrist watch may sound fancy, but it's limited in its usefulness. Making calls on it is straight up weird. Sending doodles or even your heartbeat to people – you get our point. On the other hand, the same holds true for Android Wear, so it's all boils downs to pricing really. And Apple's certainly won't make you jump in excitement.
The Apple Watch is Apple's first attempt a new form factor in years and it may be argued, it's Apple's first truly new mobile product after Steve Jobs passed away.
Back when the first iPhone was revealed, it wasn't a perfect product either. It wasn't a cheap one too. But it had the most beautiful touch user interface we had seen and the its incredible mobile web browser opened the doors to mobile browsing as a whole.
When the first iPad was announced, we didn't have any other portable tablets to speak of. It was a new product category on its own and today, its name has almost become synonymous with a tablet's.
But the Apple Watch is short on both of these merits. It has an innovative UI, but it delivers pretty much the same functionality as competing smartwatches so it probably won't steal any new customers for Apple. It also doesn't open up a new product category to users so nobody will feel compelled to own one outside of Apple's die hard fans either.
Essentially, the Apple Watch is for who are already deep into the iPhone ecosystem and it seems it will take a considerably better effort by Apple to turn smartwatches into its next big thing.
And while we appreciate many of the ideas that come with the new platform and the design of the Watch itself, the answer to the question whether you should get one will probably be based purely on your desire for trying out Apple's latest than any practical reasons.
Of course, there is nothing wrong about that. Sometimes you gotta follow the road your heart takes you on. And if you do, don't forget to send us that excited heartbeat of yours.